John Peter Reck, now of Claude, Texas was born Jean Pierre Reck at St. Die, Senones and Baccarat Department of Vaseges in Lorraine France on June 21, 1858. He was the second of four sons born to Nicholas and Madeline Reck.
Nicholas Reck was a miller in St. Die and it was there that John Reck spent his early years and received his education.
It was the custom then as now, in France, that all young men should have a certain amount of military training each year, but due to an accident in the mill which mangled one of his arms when he was a small boy, John was not eligible for this training.
Mr. Reck, well remembers the days of the Franco-Prussian war in 1870 at which time Germany was ceded a part of Alsace-Lorraine. This division of territory left St. Die about 1 1/2 miles inside of France. He tells of what high prices one had to pay for commodities in France while in Germany they were cheap. France had to pay a big war Indemnity to Germany that is what made everything so high in France after the war. However, when one bought them in Germany the revenue was so high getting them across into France, it came out about the same. Consequently, there was a large traffic in smuggling carried on. The revenue officers were stationed every 400 yards apart, but many of the smugglers were clever enough to get by them.
What with the hardships of reconstruction after the war and the many glamorous tales one heard of America and all it had to offer, the Reck family decided to try their fortune in the United States.
Jean Pierre Reck
So it was in 1878 that John Reck found himself in New York City, 20 years old and far, far from the shores of his native France. After spending 2 months in New York City, he went to Peoria, Illinois and worked as a mechanic for about a year. Evidently, he had heard of Mr. Webster's advice to young men to "Go West" and kept heading that way and to the south until he landed in Ft. Worth Texas.
The Reck family settled in Parker County near Weatherford. There were the parents, Nicholas and Madelaine; three single boys, John, Emil and Andre; and Joe Reck, the married brother, and his family.
In 1887 Joe Reck moved to the Panhandle and filed on a claim six miles east of Claude. Early in 1887 John decided that he too would have a look at the plains, so harnessed his team of horses to a wagon and started out for Claude. The trip took ten days. He found the country to his liking so filed on a claim near his brother's and made preparations for his return to Parker County to move his parents and brothers to their new home.
He dug several specimens of prickly pears, put them all in his wagon and started on his ten day trip back to Weatherford.
Before starting on his return trip he dug up several big lumps of sod with grass 6 inches tall growing on it. He admits now that he took it from a low place where the soil was blackest and richest looking. He also dug several specimens of prickly pears, put them all in his wagon and started on his ten day trip back to Weatherford.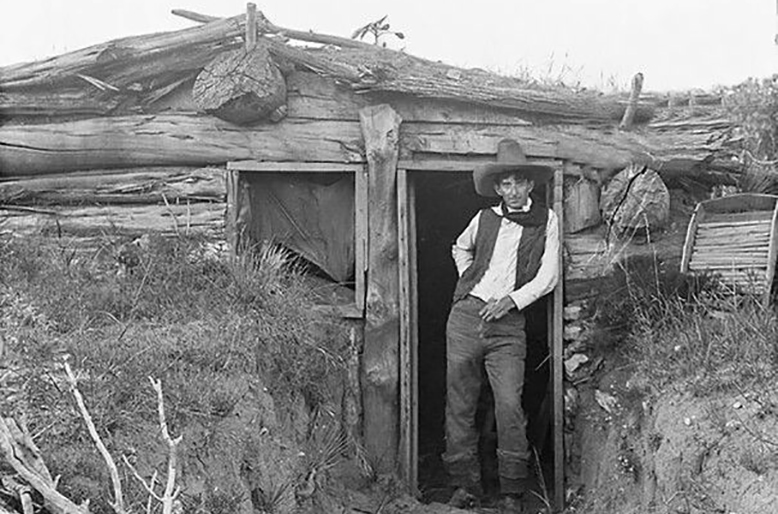 Once there, the natives clustered around his wagon to see this rich looking sod and to marvel at the sharp needled cactus that grew in this place which was still considered wild country. Many of the men there wanted to trade him out of his claim here, offering him good improved fertile land with little or no indebtedness against it. The women wanted the cactus plants to put in their yards and he gladly gave the prickly pears away - but John Reck kept his claim on the prairie. He and his parents returned to Claude in Novembe 1888 via rail.
At the time John Reck returned to Claude the railroad went through to Amarillo. There was little or no town at Claude. A Mr. Trice went to Clarendon in his buckboard after supplies, brought them to Claude where the settlers bought them. There was no coal, the fuel was wood from the canyon.
Resource: The Portal to Texas History A Collection of Memories: A History of Armstrong County, 1876-1965 by Armstrong County Historical Society 1965.